After much searching plus trial and error I finally have rooted my Huawei Honor Holly -U19 phone successfully. I installed many drivers prior to it but don't know for sure which one did the trick for me. But eventually I figured it out. Hence, without further delay here is the exact process of rooting this killer phone.
Make sure you have the original data cable with you, though I used data cable of Samsung Note 2 it worked, hence, any OEM data cable should do the trick to be on the safe side use Samsung or Huawei supplied data cable only.
Steps (Carefully do as instructed below):
1. Click on this link http://1drv.ms/12joGbv
Here I've uploaded all the software/drivers that you would be needing to root. Hence download all the files in it.
2. After the download, install the apps and driver in the following series. [This is important]
ADB Installer 1.4.2
Handset_WinDriver_1.00.00.31
DriverAutoInstaller_v1.1236.00
Then,
iRoot 1.7.9.10454
3. Connect phone via USB
4. Bring down the notification panel and click on the USB icon
5. Enable USB Debugging and select storage as connect method. (Do not select MTP, Camera or CD Drive mode)
6. After selecting storage mode "Do not tap" on "Mount the storage as USB" button which is at the bottom of the screen. Doing this will make your memory card unavailable and the root process will also fail.
7. Open the iRoot app and let it detect your phone. Make sure you have an active internet connection, so that it can download the drivers and install it automatically. This causes you an additional download of about 30 MB. [Don't worry its all worth it]
8. After that the iRoot will install 3 Chinese apps on your phone. Do not do anything with it, let it complete on its own.
9. If everything goes well you will see the green Root button. Click on it.
10. Make sure the phone is fully charged and you have UPS backup on your computer. Any interruption after you click the Root button in iRoot can make your phone unusable. So take huge precautions during the process. (You've been warned now)
11. Wait for 2 mins now and don't do anything. The phone will restart after the process is completed. You can see the ongoing status on iRoot itself.
12. After successful completion you will see the below screen on iRoot app on your computer screen.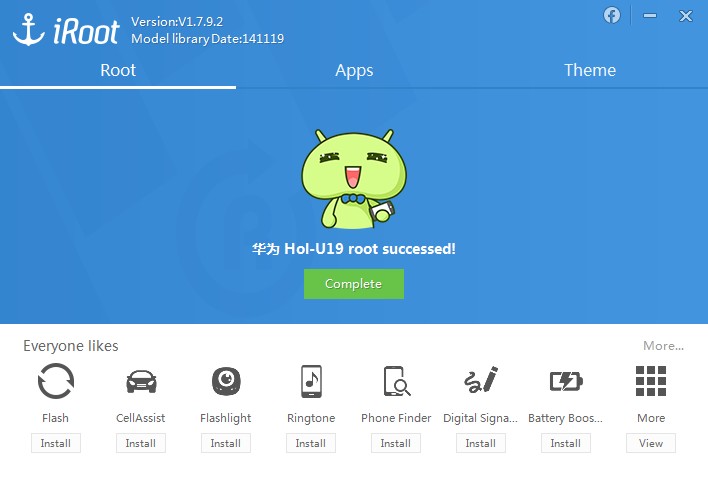 iRoot Screen
13. Your phone is rooted!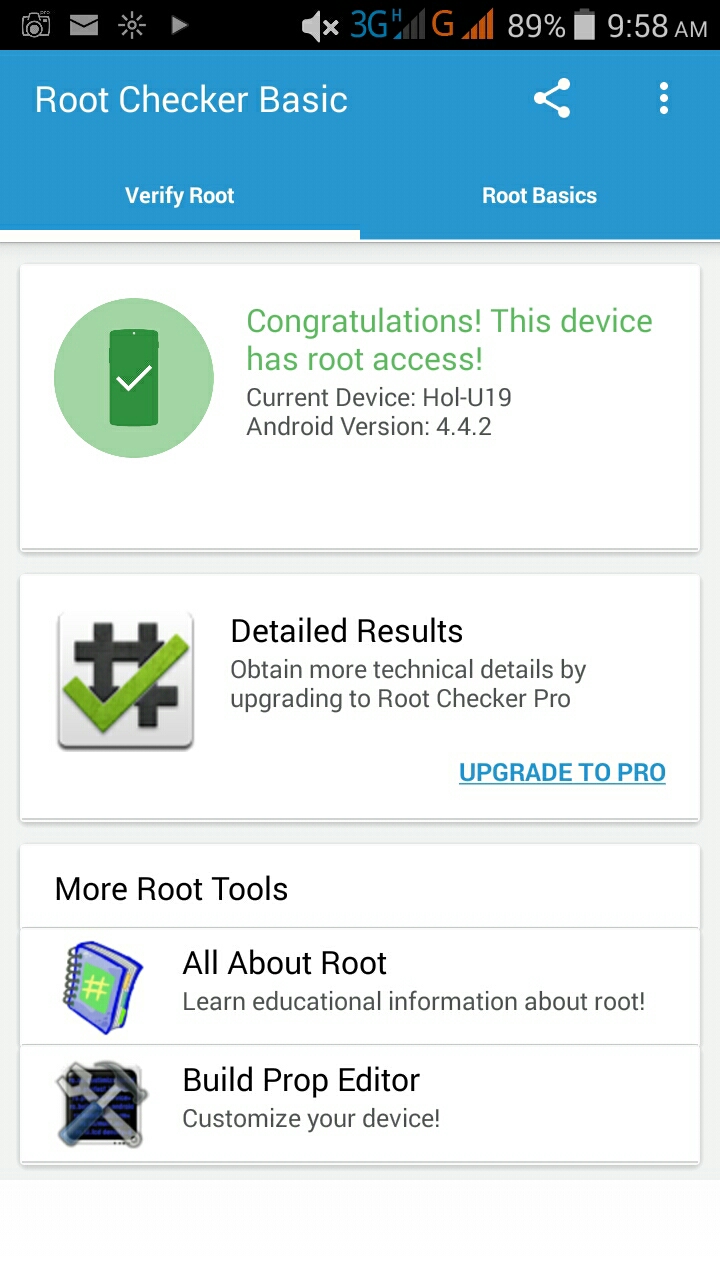 HHH Root Screen
14. Download SuperSU app from Play Store and install. Open SuperSU, the Chinese app will pop up so as to grant SuperSU root permissions or not, remember to tap the RIGHT button in the Chinese app which is a YES.
15. Download Root Cleaner (paid app) and uninstall all the Chinese apps from your phone, you do not need them anymore now.
16. Update your SuperSU binaries and reboot the phone.
That's all. Enjoy!
[Showed me VCOM error during the last stage of driver installation in PC but it didn't affect the process.]